About Us

We are FTC Team 4386, Inferno
.
We create and program robots to compete in FIRST Tech Challenge competitions, connect with other teams, and conduct STEM (Science, Technology, Engineering, and Mathematics) outreach in the community.
Founded in 2010 as 4386 Knights, Inferno has advanced to the State competition twice.

Our members include 9th through 12

th

graders at Nova Classical Academy, a charter school located in St. Paul.
​
How Our Team Is Organized
Inferno has four main subunits to focus on four different aspects of the competition. Most members will be part of more than one subunit. Our subunits are Design/Build, Programming, Notebook, and Connections.
Design/Build
The Design/Build subunit is responsible for designing and building a robot to compete in the robot game. This involves sketching ideas, designing them in CAD, and assembling them into the finished robot. The Design/Build subteam involves three sub-subunits, the CAD sub-subunit, the Building sub-subunit, and the Drive Team sub-subunit.
CAD

The CAD subunit is responsible for designing our robot using CAD. This helps reduce the amount of time we need to spend building it and modifying it to make it work.
Building
The Building subunit assembles the actual robot. They are responsible for putting it together based on the CAD designs.
Drive Team

The Drive Team subunit drives the robot at competitions. It is required to have at least one member from another part of the Design/Build subunit and another member from the Programming subunit. Members must also be able to memorize the rules, work well under pressure, and communicate with our alliance partner. The Drive Team works closely with the Design/Build, Programming, and Connections subunits.
Programming

The Programming subunit programs the robot using Android Studio to do tasks during competitions. This includes autonomous and tele-op programming. To create the programs, the Programming sub-unit first sketches out the logic, then programs the robot to follow the logic (sometimes requiring research), and finally debugs, tests, and revises. The Programming subunit must respond to changes in the robot's design as well as the desires of the Drive Team sub-subunit.
Notebook

The Notebook subunit records our team's journey through the season. This subunit includes the entire team, but some members are more active in it than others. Its main tasks are creating written entries and taking photographs of our journey, but the Notebook team also scans in documents and creates supplementary materials.
Connections
The Connections subunit connects our team to the outside world, including other teams and people not involved in FTC. The Connections subunit has three sub-subunits: Outreach, Social Media, and Scouting.
Outreach

The Outreach sub-subunit organizes opportunities to promote STEM in our local community. This involves working with local businesses and organizations to determine ways we can promote STEM.
Social Media
The Social Media sub-subunit connects our team to other teams through the internet. It manages our website, team email, Facebook page, and Twitter stream. It also observes what other teams are up to.
Scouting
The Scouting sub-subunit connects our team to other teams at tournaments. It helps communicate with our alliance partners to determine strategy and observes the capabilities of other teams to help determine elimination round strategy.
Team Goals

Our team has several goals targeted towards areas we want to be successful in. We have goals for the whole team, as well as for individual subunits.
General Goals

Use Core Values in everything we do

Collaborate as a team

Use input from all team members

Be role models and leaders in our community

Stay safe during the season

Learn about robotics in our various subunits

Advance to the state competition




Design/Build Goals
Use CAD in the design process

Incorporate laser-cut and/or 3D-printed parts

Train the Drive Team, allow them time to practice before the tournament
Programming Goals
Have a successful tele-op program with an "Inversion" button and speed control

Have a functional autonomous that consistently scores points

Learn the essentials of Java programming
Notebook Goals
Thoroughly document our team's journey

Include relevant supplementary materials

Illustrate our design process with photos
Connections Goals
Develop a strong scouting strategy

Promote STEM in our community

Have a team Facebook, Twitter, and website
Powered by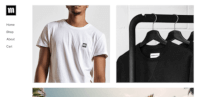 Create your own unique website with customizable templates.